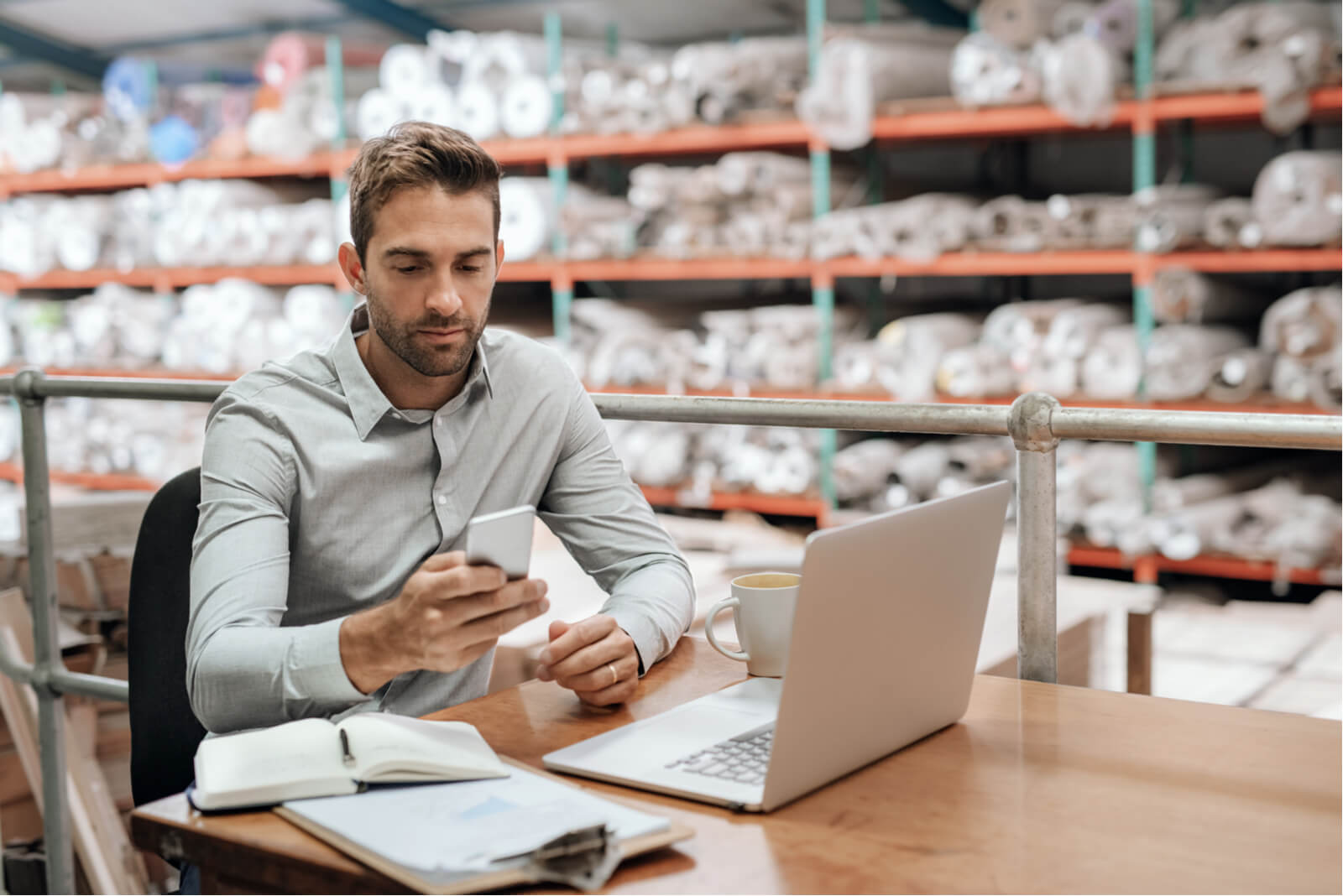 Square has acquired Stitch Labs and announced that it is shutting down the service. Retailers who have been using Stitch Labs for their multi-channel inventory management are now looking for alternatives to ensure their inventory, orders, and fulfillments sync across channels and fulfillment services.
Historically, there has always been overlap between Stitch Labs and Accumula clients. In particular, Accumula served more retailers who required a complete two-way inventory synchronization between their in-store POS (point of sale) systems and their eCommerce platforms (discussed more below).
And now that Stitch Labs isn't taking on new customers and will stop servicing existing customers by Spring of 2021, we put together this article to help brands looking for an alternative to understand the choices, and see if our product, Accumula, is a fit for them.
In this article, we'll compare Stitch Labs strengths in contrast to how our product Accumula works and review strategies to reduce platform dependence. Finally, we'll look at some other IMS (inventory management system) alternatives.
Note: If you're interested in exploring Accumula further as a Stitch Labs alternative for your high-growth retail business, you can click here for a demo or click here to see pricing.
Stitch Labs vs. Accumula
Stitch Labs was designed primarily for eCommerce organizations that sell online-only across different sites and marketplaces (such as eBay and Amazon). It has been an excellent solution if you've had no brick-and-mortar footprint and no plans for one.
And clearly, it created a lot of value for its customers — hence Square POS buying it.
But the functionality on the brick-and-mortar side has always been limited because it was not a focus. Retailers whose brick and mortar presence is an operational priority came to Accumula to integrate their in-store POS, eCommerce platform, and 3PL (third-party logistics provider).
Why? To ensure their inventory and transactional data have 100% visibility between their in-store POS and eCommerce platforms.
What Accumula Can Do for Stitch Labs Users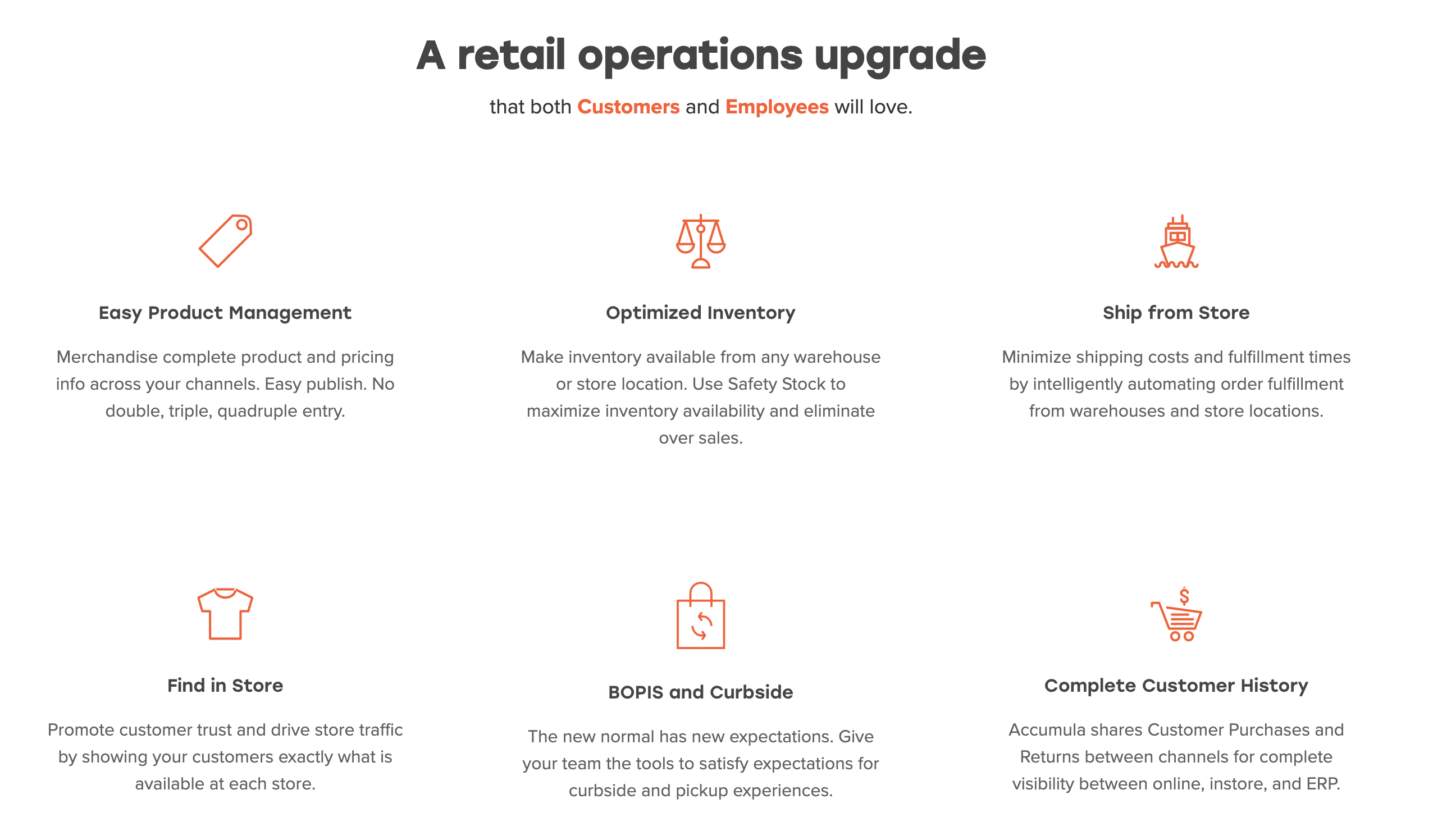 Stitch Labs operates as the "single source of truth" to manage inventory across sites, marketplaces, and inventory sources in your stack. Again, as we said above, that works great if you have an eCommerce only operation (including multiple online sales channels).
But if your stack includes retail locations running point of sale software, there is likely a significant blind spot with Stitch; your stores. Because Stitch is the "single source of truth," for inventory data, your team must manage inventory transactions like transfer orders and purchase orders in Stitch.
And because Stitch does not integrate those critical inventory movements to the point of sale, where inventory is closest to the customer, your team needs to manually import those transactions to stores to keep store inventory current. That means stale data and manual errors.
This causes issues, especially for retailers, who use their stores as fulfillment centers.
An inventory management system like Stitch Labs works great for retailers with traditional warehouses. Those warehouses function as a closed system — if an order comes in, the product is removed and shipped to fulfill the order, with the shipping and tracking usually managed by shipping software like ShipStation.
But suppose you're using your stores as fulfillment centers. In that case, in-store transactions will change your inventory availability continuously — and if your in-store POS and digital channels aren't fully integrated, product availability will be incorrect in a matter of minutes.
Incorrect inventory data can, of course, cause major problems. For example, when stock runs low on an item, if an online customer has it in their shopping cart, but the final few products are bought by customers in the store, you run a serious risk of an oversell when the online customer checks out only to be told later the product is actually not in stock after all.
With the rise of buy online, pick up in-store (BOPIS), and curbside pickup — this is an even larger issue.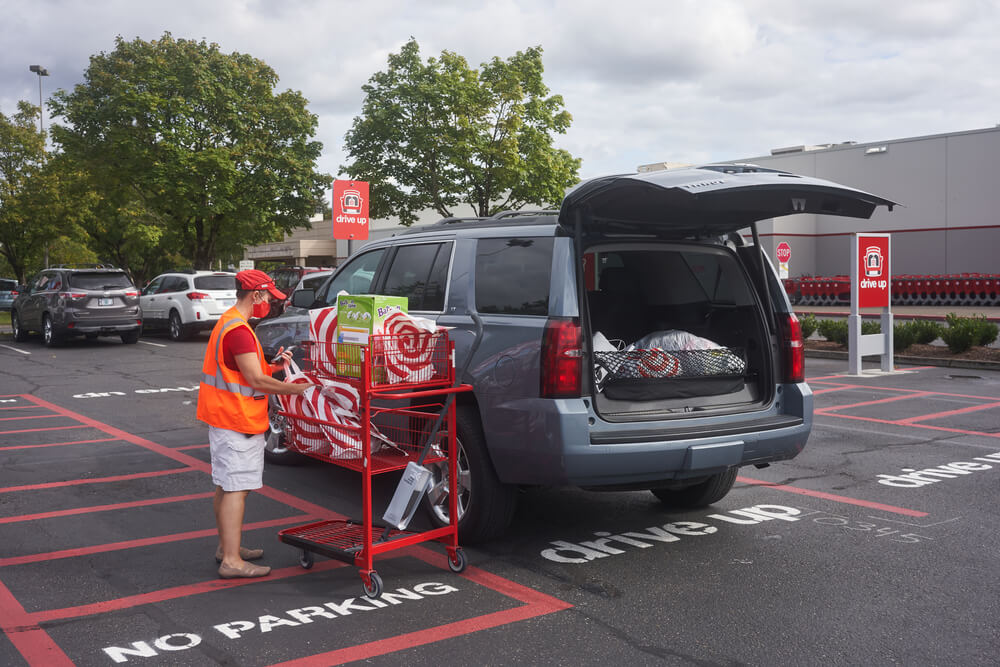 If available inventory is incorrect and a customer chooses fulfillment by pickup or curbside, you'll have a very disappointed customer who drove all the way to your store just to find out that their order was out of stock. Misfires like this erode customer trust and have a massive impact on customer retention.
Note: You can read more about how to manage BOPIS and curbside with Accumula in this article.
Accumula takes a different approach to "the truth." That's because Accumula is a headless inventory management solution.
Rather than forcing you to learn yet another piece of software and log into Accumula to do your work, we leverage the other platforms in your stack for what they do best and sync order and transaction data automatically in the background.
That means work doesn't need to be performed twice and staff doesn't need to be trained on multiple systems. If sales orders or transfer orders are created in your POS, Accumula will automatically create them in your ERP and update the inventory change to your eCommerce platform.
We describe the full impact of this approach and the benefits of headless solutions in detail in this article.
In short, Accumula maintains a master inventory and transaction record (the "truth") but does so by ensuring this data is fully synced between all of your platforms, in what we call "distributed truth."
This has a great positive impact on employees by simplifying their workflows.
Accumula will automatically publish products from your ERP or POS in your eCommerce platform or 3PL. In-store inventory changes will be reflected in Shopify in real-time.
All of this happens automatically, saving you time, resources, and heartache, by removing the need for a separate platform to display and manage your inventory and transaction data (like Stitch Labs) — hence the term "headless."
This fundamental difference between Accumula and typical inventory management software like Stitch Labs means:
Accumla also works with 3PLs and ERPs (enterprise resource planning software). Like Stitch Labs, we integrate with 3PLs such as Mochila and Bleckmann. This allows orders to be split and fulfilled efficiently from both warehouses and stores.
Unlike Stitch Labs, we also integrate with ERPs such as NetSuite and RLM, allowing your brand to scale up when the need arises. And, if we don't have a 3PL integration you're looking for, we can build it quickly — usually in only a few weeks.
In essence, if you've been doing inventory management and order management in Stitch, Accumula allows you to do that without adding platform or training overhead.
Inventory and transaction data is automatically synced between the online and offline channels your team is already using. You don't need to train your employees on another piece of software and there's no switching between apps to keep inventory current. Your team's inventory tracking workflow is streamlined.
What Accumula Doesn't Do
Many teams use Stitch Labs for manual order management and reporting. Accumula does not offer these features.
Because it's a headless solution, you don't need to interface with Accumula for order or inventory management — rules do all of the work. Reporting is handled by integrated solutions that have more complete visibility of transactions and inventory.
While our solution being hands-off is almost always a helpful facet, if manual intervention is something you still need, Accumula is not a good fit.
Stitch also provides native support for marketplaces (ie. Amazon and eBay) and kit creation for bundling products. Accumula does not support either of these features natively, instead relying on dedicated partners like Codisto and apps like Bold Bundles.
These apps focus specifically on these problems, essentially moving marketplace and kitting functions to the eCommerce platform where dedicated applications handle the load.
In many cases, these tasks are performed once by a single person when listing a new product, reducing complexity for everyone else.
Other Alternatives to Stitch Labs
Accumula is a solution that automates back-end integration of inventory and transaction data with no hands-on input from you or your employees. However, if you're looking for a system in which you can also manually manage your inventory, there are more traditional IMS SaaS products.
Inventory management software options abound, but here, we're going to focus on three popular ones, based on our experience with customers and on user reviews: Unleashed, QuickBooks Commerce (TradeGecko), and Skubana.
We'll give some pros and cons of each, in the context of multi-channel inventory management, and explain why each may not be enough on their own — especially if you have brick and mortar stores with their own POS.
For current pricing, check out their websites.
Unleashed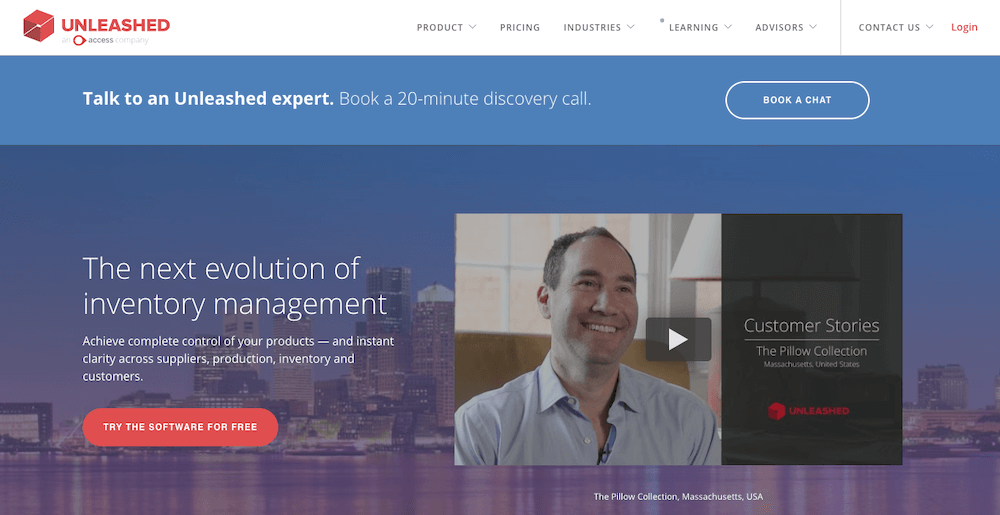 The inventory management tool from Unleashed lists benefits such as perpetual inventory control (which helps you keep an eye on cost of goods sold), multi-warehouse management, and flexible product management with detailed input options (such as barcode scanning and serial number tracking).
They position themselves as "the natural choice for wholesalers and distributors." And with deep B2B functionality dedicated to wholesaling and manufacturing, that makes sense.
While Unleashed integrates with eCommerce, and can manage inventory across multiple warehouses, there are some critical limitations, particularly with Shopify:
Shopify locations are not supported, so both online orders and POS orders can only download to a single assigned Unleashed warehouse.
Refunds are not integrated and must be created manually to keep inventory and financials accurate.
Product data published to Shopify is incomplete, so it must be managed independently, creating a lot of extra work.
The Unleashed app marketplace does offer POS integrations of various depth for Shopify, Vend, and Hike, but as we've mentioned, they do not provide visibility per store location, just an aggregate, making it hard to really see what is going on in your stores.
So if your business has customer-facing stores, you're kind of out of luck.
Compared to Stitch Labs, Unleashed offers highly-rated customer support and is arguably easier to set up, but it is more expensive.
QuickBooks Commerce (Formerly TradeGecko)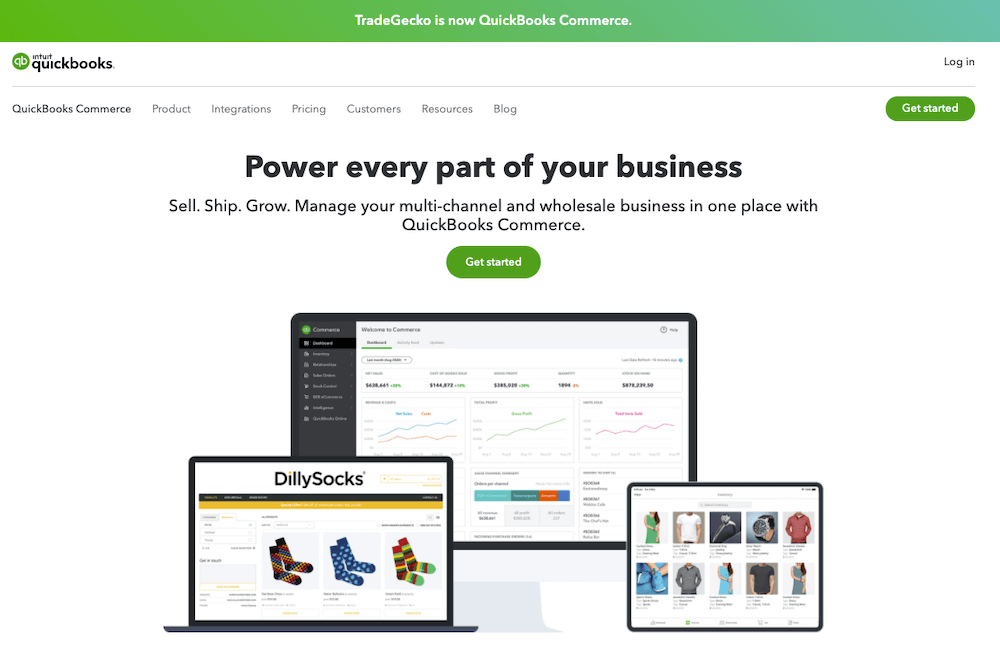 QuickBooks Commerce offers an inventory management system that, like Unleashed, offers to help you "manage your multi-channel and wholesale business in one place."
It promises to help you keep track of your products across multiple warehouses, even as you sell, manufacture, and restock.
QuickBooks Commerce offers multi-channel selling in marketplaces, B2C and B2B eCommerce platforms, and on mobile — but again, their brick-and-mortar support is limited to Shopify POS with no official support for other point of sales.
Perhaps more critically, QuickBooks Commerce's order routing simply follows Shopify's own rules with no support for critical strategies like routing by distance or by source.
QuickBooks Commerce offers excellent support and is easy to set up, but like Unleashed, it is also more expensive than Stitch.
Skubana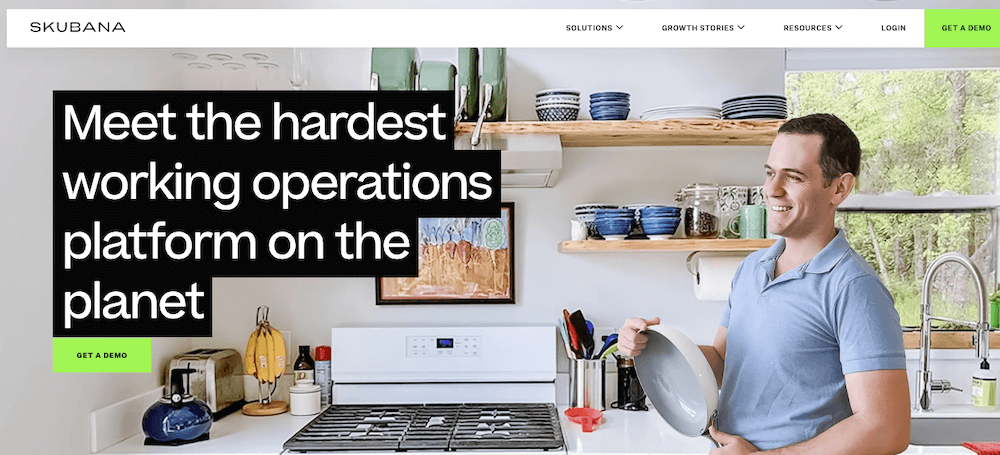 Skubana is a cloud based multi-channel operations platform "that allows their users to sell direct to everywhere, including DTC, through wholesale, marketplaces, or all of that and more."
Skubana was started by Chad Rubin, a genius at selling on Amazon, and a thought leader who put his practical experience as a very successful marketplace seller into his software. This shows.
Skubana has deep inventory tools and order routing logic, delivering a lot of flexibility and solid analytics for digital sellers. Again, brick and mortar support is not a focus, with no dedicated point of sale integrations available.
If your business is almost exclusively online, we definitely encourage you to check out Skubana.
See If Accumula Is Right for Your Company
Platform selection is critical to your business, particularly if you work with online and offline channels. If this contrast between Stitch Labs, Accumula, and other solutions makes you think Accumula's headless solution could be a good fit for your company, reach out and chat with us here.